At the heart of the tree in the sapwood the night does not know / The sap which flows takes the paths so close / At the edge of the void our love always goes in a circle / The wind which blows in the summits stirs the fossils
The rings of the wood are so tender that they resonate / From one year to another echoing love astonishes us / Under the sun we sigh for the days that are reborn / In the heart of the tree our love never is silent
Do you know the one who sleeps lying under the bark / Her skin so soft and her eyes that look into the distance / She has dreams that inhabit her and even in fossil / She will remain light like color
A butterfly in the night comes to burn its wings / After eternity, after its sweet sleep / So that the world remains in bloom even after love / Butterflies in dark circles do not forget the day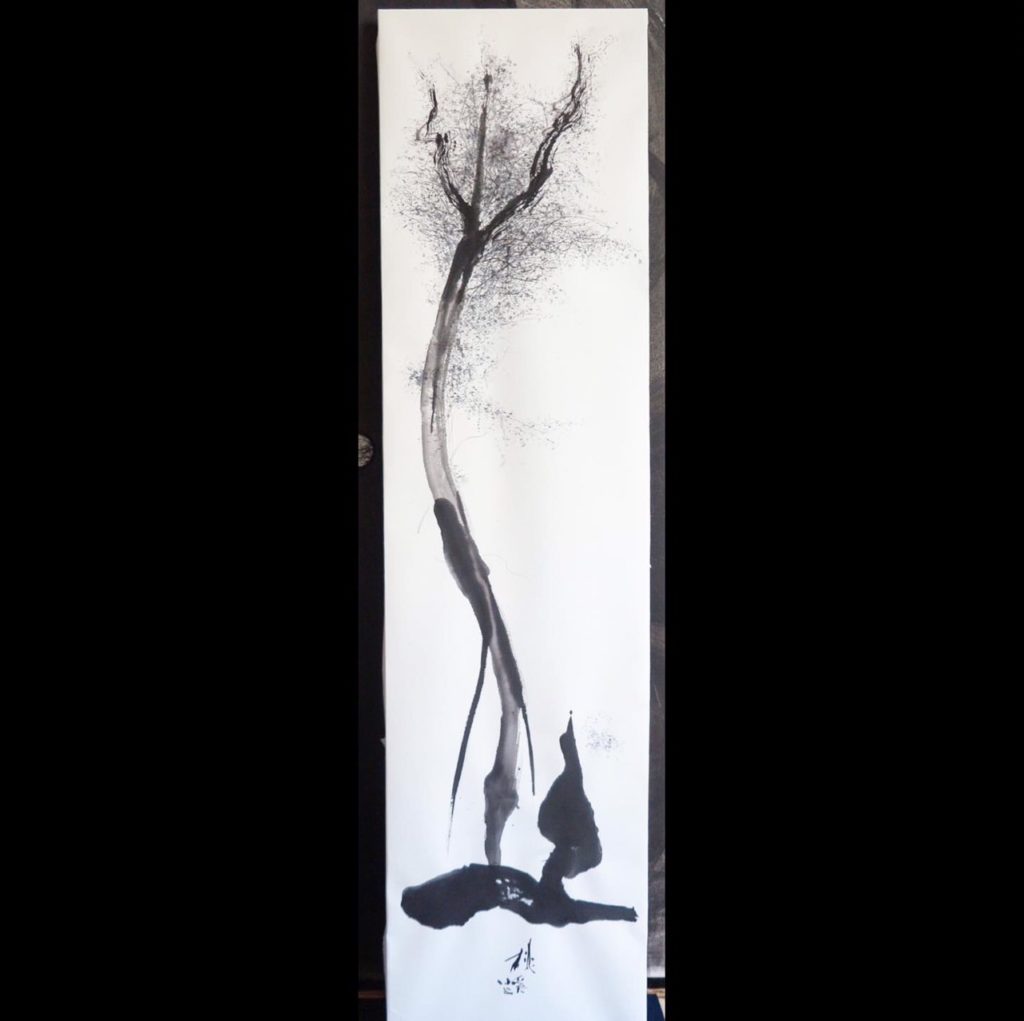 From Nara…
Being able to come and write in residence in Nara with Tohkei, Naomi of her real name, an artist and calligrapher friend, and what is more in a Ryokan, is an unexpected chance to carry out this adventure of the Blue Mountains. In this vast house we have a sense of the link, of this famous "go-in" which can mean luck, link or even fate. Here we do not run after things or after beings: there are links to nurture and others that we must learn to drop, it is as simple as that. This house is located in the land of the Buddha and Naomi-san is imbued with this vision of the interdependence of all things.
The one who has a fine perception can detect from his arrival here the two smells which float in the background in the air and which are like memories, impregnations in these places: that of wood, and that of the ink. Wood is at the heart of life in this region, the wood from which houses and temples are built, the wood that is carved. Wood is also the fire that warms. Wood here is quite a story and I will have the opportunity to tell you more about it next time, there is so much to say about it. And then the ink, like an essential, daily breath. So these are the things that bind me to Naomi-san, me who writes songs with my sweet little ink and am in love with trees and forests. So it was with a clear vision that I knew I had to write a song about trees when I came here.
I searched for her writing for a long time, imploring good spirits to give it to me to hear. It came to me just the day before the rehearsal we had planned with Steve Eto, this wonderful and famous Japanese percussionist who lives in Nara. I wrote it in a snap, in just a few minutes. I was seized by the force of the images that presented themselves to me and by his so simple and deep musicality. We recorded it the next day without thinking. This song is a bit like a plunge into a distant time, into another world, when the night was dark and the candlelight lit up dreams.
About a month ago, in the night in the countryside not far from here, also in a dark night, stopped in a car on the side of the road, I briefly saw a moth, a single and very large white butterfly. I think it was he who came to whisper this song to me.
We planned to record and film it with calligraphy Naomi-san. The kanji that sprang up, 杜, means "the place where the Kamis (spirit-gods) are in the forest". It is used to refer to the place where there are trees near Shinto shrines. It is made up of two parts, on the left the tree, on the right the earth.